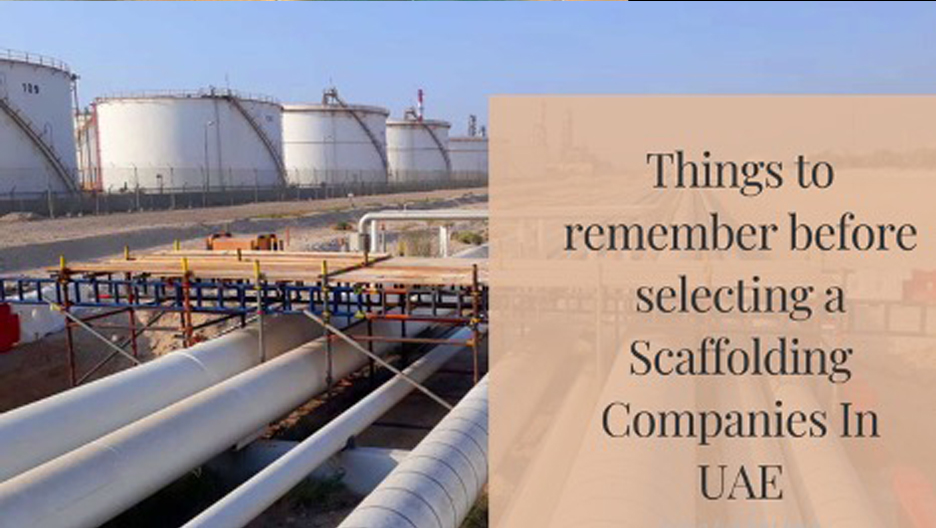 Things to remember before selecting a Scaffolding Companies In UAE
Ideally, it has become very important to have scaffolding for any access solutions for construction work or possibly your idea for home or office premises renovation to complicated on shore - offshore, outdoor advertainment solution, temporary event solution and confined space access solutions from Dubai Municipality approved Scaffolding Contractor. Perhaps it helps workers to work more comfortably in highly elevated areas as it enables them to keep their materials in a position. Because their work tends to become much simpler, safer and quicker, most of the new construction projects use qualified scaffolding contractor to maintain safe and professional construction practice. Indeed the design and installation of scaffolds has become a very successful business as mostly contractors look for a safe and professional Scaffolding Contractor. In reality, with tremendous demand from the construction industry, scaffolding for construction in dubai are doing great today. There are some important things you can normally expect from these scaffolding contractors if you are willing to opt scaffolding.
The developments in the construction industry are taking place differently all around the globe and there are different projects undertaken for the construction of various locations. Many people are working on construction projects and it is mandatory to ensure safety for them that can be obtained with scaffolding. The recent concept of Scaffolding for construction in Dubai has become very advanced and there is a user-friendly approach followed due to extensive developments undertaken in the architectural field.
Looking for the best scaffolding and formwork companies in uae is not anything vague, but an undeniable tough technique. Consider searching every single organization that serves in this sector to find a reputable scaffolding supplier in the UAE for the job. Here are a few things to look out for when choosing a scaffolding company in order to make everything run smoothly with the right Scaffolding company in UAE.
In producing high quality and innovative designs for the scaffolding system, a good scaffolding supplier in UAE should have a pretty good track record in the industry. Not only should the scaffolds manufactured be robust, solid, but also easy to install and ensure rapidity during the process. Don't neglect that time is a very important factor, so it is important to keep in mind any construction work and ensure that the installation time is held to a bare minimum. Manufacturers of scaffolding should also make absolutely sure that their products are easy to handle and transport around. Most manufacturers ensure a simple mobility feature and thus produce wheel mechanism scaffolds.
In addition to these important things, it is also important to carefully scrutinize the strength of the materials used in the construction of scaffolds. While steel is known to be one of the strongest scaffolding materials, it moves about very heavily. In fact, scaffolding organizations should have scaffolding systems that include materials that make it not only easy to move the whole thing, but also robust. Acknowledge that safety is never compromised, so any customer like you can ask for robust scaffolding. Good scaffolding often uses state-of-the-art technology to improve the real quality, such as laser cutting and robotic welding with high grade light steel, and to guarantee that the material used is of excellent quality.
Depending on your requirements and specifications, get the right scaffolding. Different kinds of scaffolding are used in rendering, roofing and construction. Choose a scaffolding that carries the weight of the user comfortably and any equipment they are operating with.
If the work demands the scaffold to be shifted, a lightweight and mobile scaffold would be advantageous. A fixed scaffold can do so if it does not require shifting. There is a distinct need for someone looking for a scaffold for a window wash than someone who wants help for roof work.
When you pick a scaffold to your project, budget also matters a lot. A scaffold supported is an affordable choice. For potential uses, many of the elements are reusable. Adjustable versions are more costly, but can be erect and dismantle quicker.

Here's we list out the some scaffolding suppliers in uae.

DECAGON SCAFFOLDING ENGINEERING CO. LLC.
Decagon Scaffolding And Engineering Co LLC is one of the leaders in UAE Market as a Dubai Municipality licensed scaffolding contractor with over a decade of experience in Scaffolding products and services.
Service
Design And Engineering Services
Scaffolding Installation And Dismantling
Scaffolding Rental Service
Scaffolding Safety Inspection Services.
Location: Suit No. 301, Al Fahad Building #4 Opposite Daily Restaurant, Damascus Street, Al Qusais , Dubai, United Arab Emirates